It's easy to get stuck in a competitive market rut.
Getting your resume professionally rewritten isn't just about working with an expert to create a better, more marketable document, it's also about boosting your confidence and having a trusted ally during this difficult transition in a job seeker's life. Sandra was at one of these crossroads in her life — starting over in a competitive job market.
After resigning from her family-owned business, she took on part-time work while looking for a full-time position where she could utilize her vast experience as a business operations manager and executive assistant. While searching online for advice about how to improve her resume, she stumbled upon our resume makeover contest and decided to apply — and won. She believes it was "meant to be."
Moving forward
In today's competitive, millennial-driven landscape, Sandra knew she needed to be more polished and savvy about her search. Though she was a hiring manager for 12 years, things are very different than they were 25 years ago — and Sandra hadn't rewritten her own resume in over 27 years! That's a long period of time in which resume best practices have changed, technology has evolved, and her career has progressed.
In setting herself up for job-search success, she was facing two issues: 1. getting her foot in the door and landing interviews and 2. landing interviews, but not making it past video interviews. To start, she needed a current resume that was going to work for her and boost her confidence. Sandra was paired with senior resume writer Traci K., and the two got to work.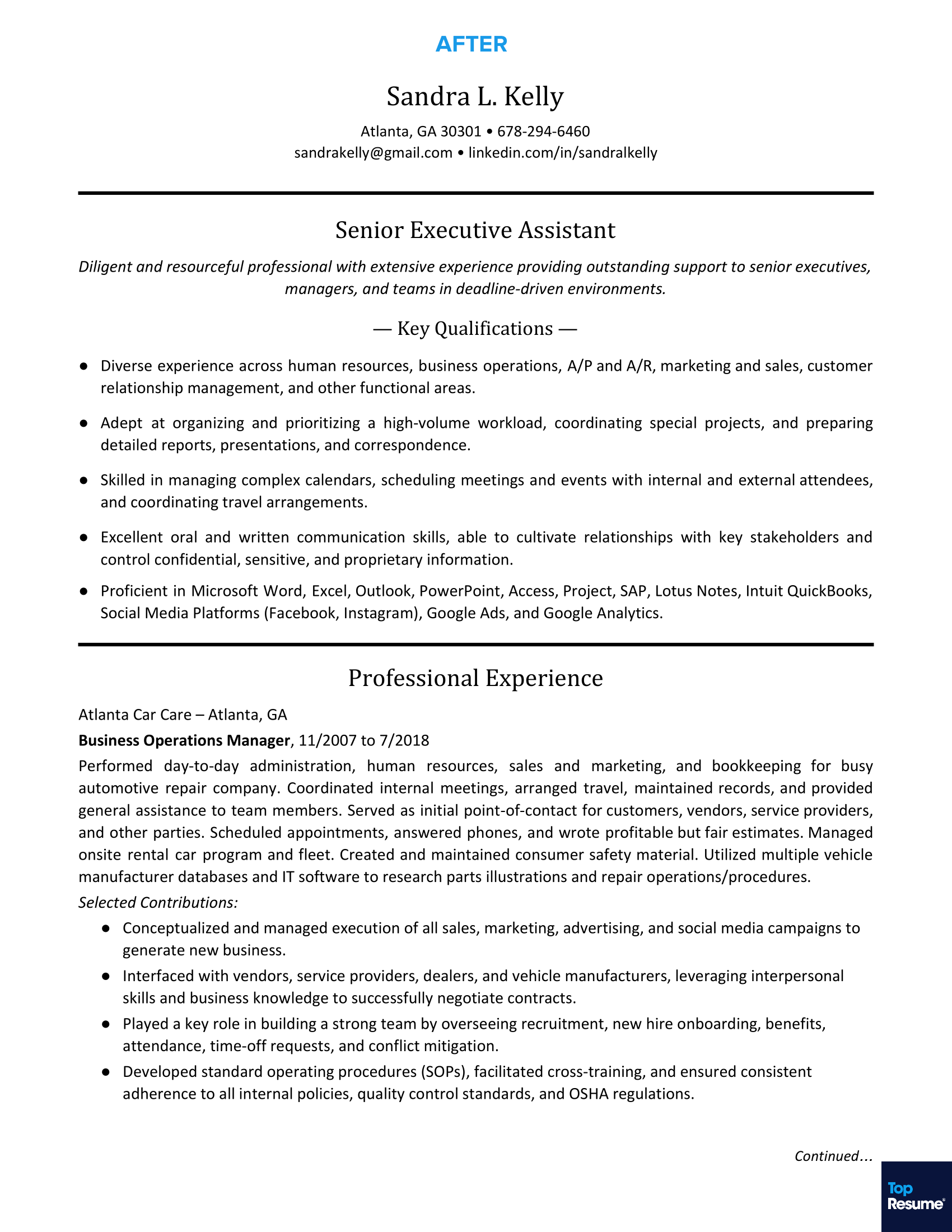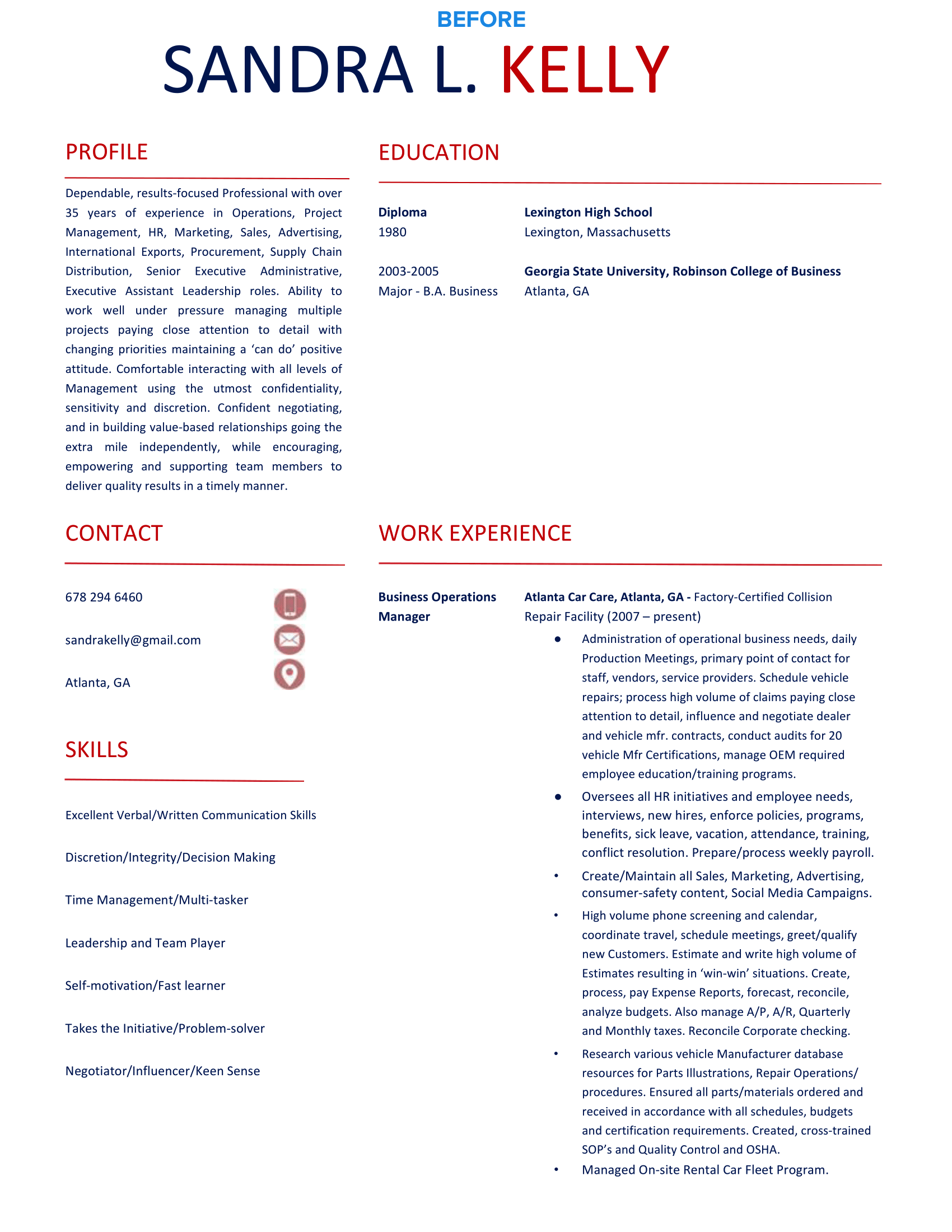 Sometimes age is more than just a number
Traci had two goals when rewriting Sandra's resume:
Effectively positioning her for an executive assistant position.

Eliminating date-related red flags.
Sandra had two main work experiences dominating her resume, with each tenure lasting for a number of years. The most recent of the two was with her family-owned business ranging from 2007 to 2018, while the earlier position was with a large corporation ranging from 1995 to 2007. She had great experience from her years at the large corporation, but it's an unfortunate fact that hiring managers often screen out resumes with dates older than 10-15 years.
To mitigate this, Traci split Sandra's experience into two sections — a "Professional Experience" section with dates for her recent position as the Business Operations Manager at her family-owned business and an "Additional Experience" section without dates for her roles with the large corporation. Traci also combined her four positions at the large corporation into a single entry in order to focus the content on her most relevant skills and achievements.
Qualifications, qualifications, qualifications
Traci also created a strong qualifications summary to lead off the resume and introduce Sandra to hiring managers. She highlighted the most important skills that hiring managers are likely to look for in an executive assistant in a format that's very easy to skim. Since the resume had room, Traci also included a brief mention of Sandra's volunteer work at the end, which will be a great talking point in interviews.
Sandra's resume now positions her as an experienced executive assistant and business professional who will be recognized for her expertise.
A new chapter
Sandra is a determined professional aiming for a successful second act in her career; she wants the chance to get things right, do well for herself, and set herself up for retirement down the road. Though she isn't there quite yet, she's starting to see the light at the end of the tunnel thanks in large part to her new resume. She was blown away when she saw her changed resume; all of the pieces of the puzzle had come together.
"Topresume was meant to be. It was a great opportunity to get some positive coaching, and create a resume that presents itself in a different, more meaningful way."
Now she's ready to move forward feeling positive, excited, optimistic, and hopeful; all the things a job seeker wants to — and should — feel. She found her TopResume experience to be humbling and educational and would recommend it to anyone. She's "grateful for the opportunity."
Sandra feels so much more confident in herself, her resume, and its ability to assist and catapult her into this next generation where she can be successful. We're confident this new resume will result in many great opportunities for her. You got this, Sandra!
We all need a little push when it comes to the job search. Sometimes it's as simple as an objective resume review.
Recommended Reading:
Related Articles: