Changing careers adds an extra challenge to resume writing.
We admire nothing more than a career changer. Not all careers have to be a linear timeline of progression, and when someone realizes that what they're currently doing isn't the right path, taking that leap of faith to pursue a new avenue is commendable. It's at that point in his career that we met Cameron (name changed).
Cameron had been an underwriter in the insurance industry for eight years, and while he was excelling, he saw the industry moving in a data-driven direction that could one day render his job obsolete. His desire to get ahead of the industry and help the antiquated world of insurance evolve led him to pursue a master's degree in applied analytics.
After graduating, Cameron planned to re-enter the insurance industry with an Insurtech company but in a different role capacity; he hoped for a product management, business analytics, or strategy and operations role which would enable him to enact as much change as possible.
With that plan in place, Cameron now had to make sure he had a resume that would strategically highlight his masters degree and past professional experiences to showcase his applicable skills and account for his lack of on-the-job product or operations experience.
Enter: TopResume's resume makeover contest to the rescue!
The original resume
Cameron found that his resume was stuck between a rock and a hard place. He was hoping to land a role as a product manager or analyst, but his resume was focused on insurance and underwriting because, after all, his previous eight years of work had been just that.
"My resume was really insurance-heavy, so trying to figure out what words the hiring managers were looking for — plus what the applicant tracking system (ATS) was looking for — was a challenge. I wasn't confident in my resume's ability to support my career goals."
Cameron needed his resume to pivot just like he hoped his career would. So, how could he include his master's degree, schoolwork, and projects on his resume in a way that would compensate for his lack of on-the-job experience and position him for the new roles he was going after?
It wasn't impossible — it was just a task that needed some extra TLC, which TopResume provided.
The TopResume rewrite process
The first step in creating a professional resume with TopResume is completing a resume worksheet, which allows our job seekers to explore their professional past as well as provide more color and context for their writer to create the best resume possible.
As a part of this exercise, Cameron thought back in his job history, found old performance reviews, and collected job descriptions that served as examples of his ideal positions. He took stock of where he'd come from to guide how to move forward.
"It was a great process to learn more about myself, what I'm looking for, and what qualities candidates should have for the roles I'm interested in. It allowed me to see the big picture a little more clearly. It was a good confidence-building activity because after the process, I still believed that I was on the right career path."
With the resume worksheet ready to go, the next step was for Cameron to collaborate with his writer to start building an interview-winning resume.
Working with a professional resume writer
Cameron got to work with Traci K., one of TopResume's senior writers. He detailed that experience to us explaining that Traci "was able to look at the resume worksheet and boil down the most important aspects of my resume and past experiences into a reformatted, succinct, impactful, action-oriented resume."
But Traci didn't simply make changes and expect Cameron to connect the dots on his own. Cameron shared that "she was really helpful in answering any questions I had and explaining why she made certain changes so I could learn from the process as well. I know that will allow me to adjust my new resume to fit different jobs I'll be applying for."
Moving forward with a new resume
When Cameron started working with TopResume, he felt that his resume wasn't positioned to help him land the types of interviews he was excited about, and no one should ever feel that way about such an integral component of their job search. With his new resume, he felt confident he was going to get noticed:
"I feel [my old resume] was holding me back. Once I start speaking with hiring managers, they'll see my enthusiasm and the value I'll bring to their teams. I'm excited about the future!"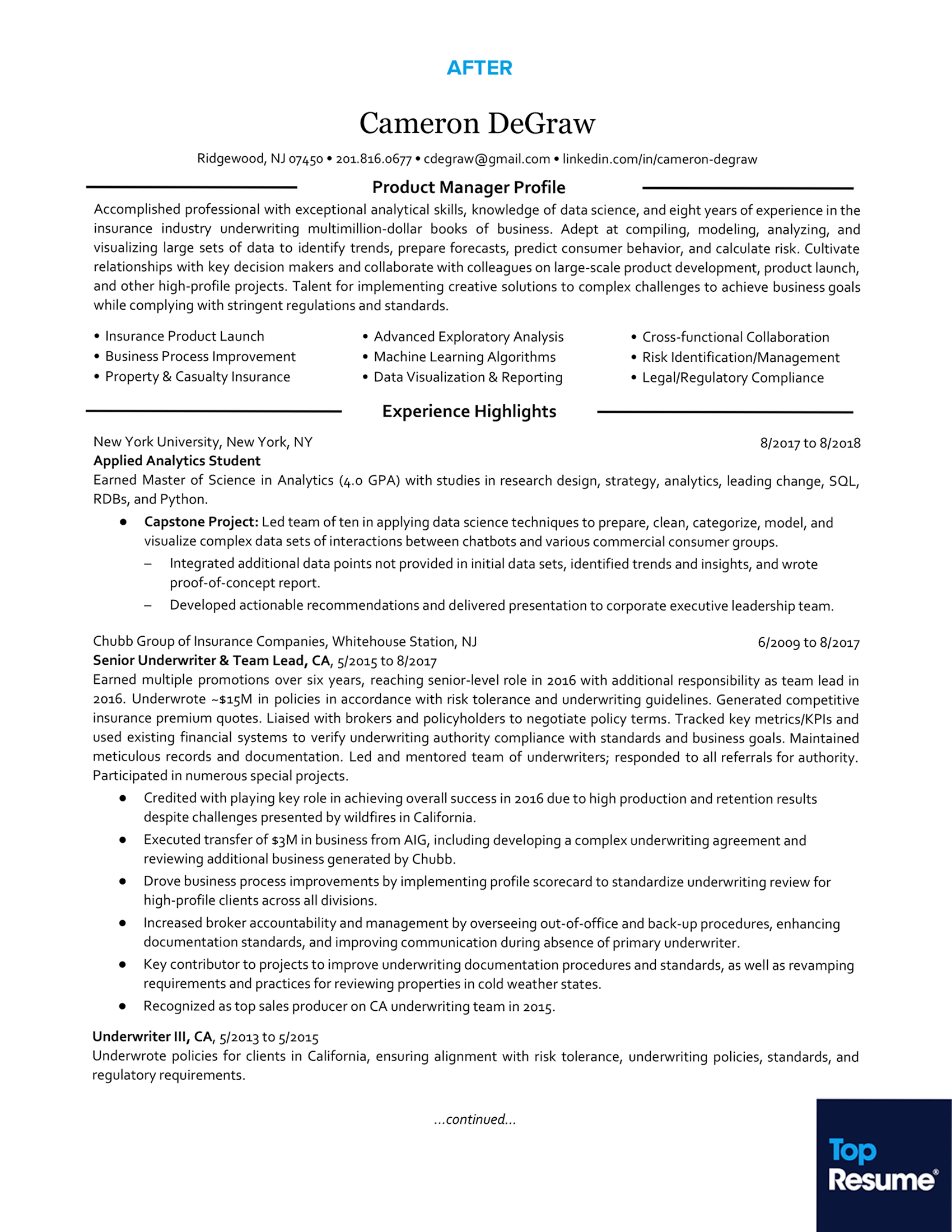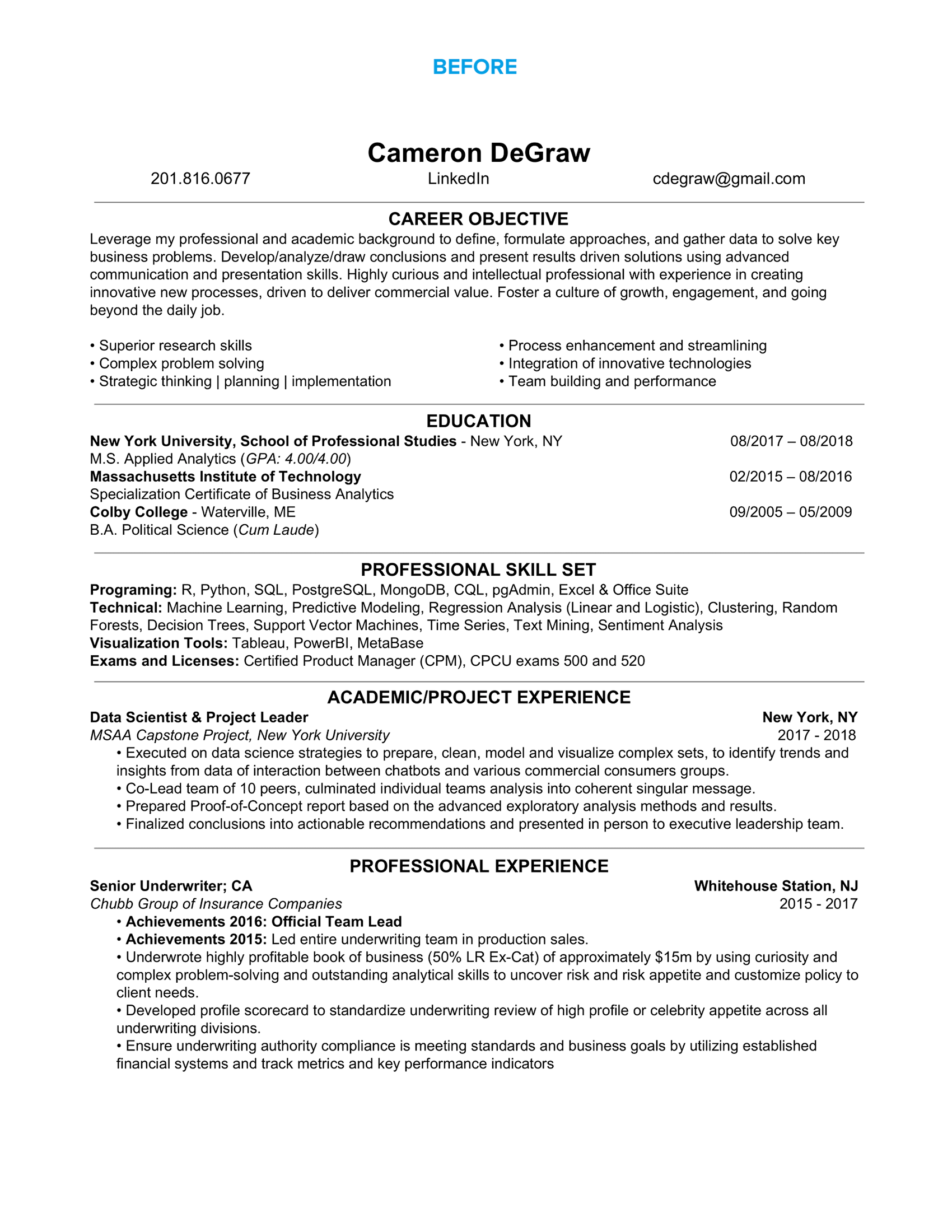 From the professional resume writer
We spoke with Cameron's writer, Traci, to get a better sense of her process and what exactly she did to update his resume.
Though bragging about one's accomplishments isn't always easy, it's necessary during any job search. Traci noted that Cameron wasn't putting his best foot forward as his resume downplayed his level of experience. To account for this, Traci gave Cameron a modern format with a powerful Career Summary and Areas of Expertise table. Traci described that these "will immediately catch the hiring manager's eye and make him stand out from other candidates."
Then there was Cameron's format. To achieve post-graduation success, Cameron needed to strategically highlight his masters program on his resume. To achieve this, Traci described that she "chose to move Cameron's education to the end of his resume and highlight the relevant skills he gained through his master's degree in applied analytics at the top."
She continued: "This approach is great for both computer and human-eye reviews; the ATS tends to rank information in the experience section higher than other sections, and the hiring manager can immediately see what relevant skills Cameron offers."
From there, Traci set out to build out Cameron's experiences to make him shine.
"I leaned heavily on the additional information he provided in order to fully develop his accomplishments and position him as an achiever. Since his career shows steady advancement through promotions, I focused the bulk of his experience on his most recent roles. This strategy also helps keep the resume to the recommended two pages.
"Finally, I added his technical and analytics skills at the end where they complement and round out his qualifications."
The happy ending
In the end, Cameron found success. Not only was he able to land a position with a much more senior title, but thanks to his resume, he was also able to double his previous salary. Last but not least — and most importantly — he was able to find a position that would allow him to use his vast underwriting experience plus those skills gained while obtaining his master's degree in applied analytics. We're wishing you the best of luck on your exciting new endeavor, Cameron!
Cameron also honed his interviewing skills, working with a TopInterview coach. Read more about his experience here.
You could be the next winner! Click here to enter our free resume makeover contest.
Recommended Reading:
Related Articles: