A job seeker may be impressive, but their resume has to look the part.
Peter's family is always on the go, moving every few years. This lifestyle affords him and his family new experiences and adventures at every turn, but unfortunately, it also makes job longevity difficult. In pursuit of more stability, Peter decided to look for full-time remote work so that his job would seamlessly fit in with his nomadic lifestyle. For him, this meant targeting account management and customer success jobs at tech startups.
Peter had been actively job searching for about five months when he won our resume makeover contest, and he had been coming up short with nothing more than a few bites and initial interviews. He concluded that his resume wasn't doing its job: "I don't know how to pare it down and make it more succinct and to the point without bragging," he told us. Peter knew he needed to present a polished resume in order to break through the noise and competition — he just didn't know how.
Restructure and revive
Peter's TopResume writer, Billie J., noted that while Peter had great information on his resume, it was getting lost in endless bullets and passive language. But with a solid foundation, all that was really needed to transform Peter's resume into an interview-landing, standout document was a strategic restructuring, rather than a total overhaul.
Billie focused on the following key changes to give new life to Peter's resume:
A streamlined presentation, separating duties from achievements to ensure that his professional value stands out

The development of a leaner, punchier summary, which will be more impactful in the brief hiring-manager scan

The creation of more targeted areas of expertise to better align with his professional goals

The utilization of higher-impact action words on a resume to accurately portray the value he has delivered in his roles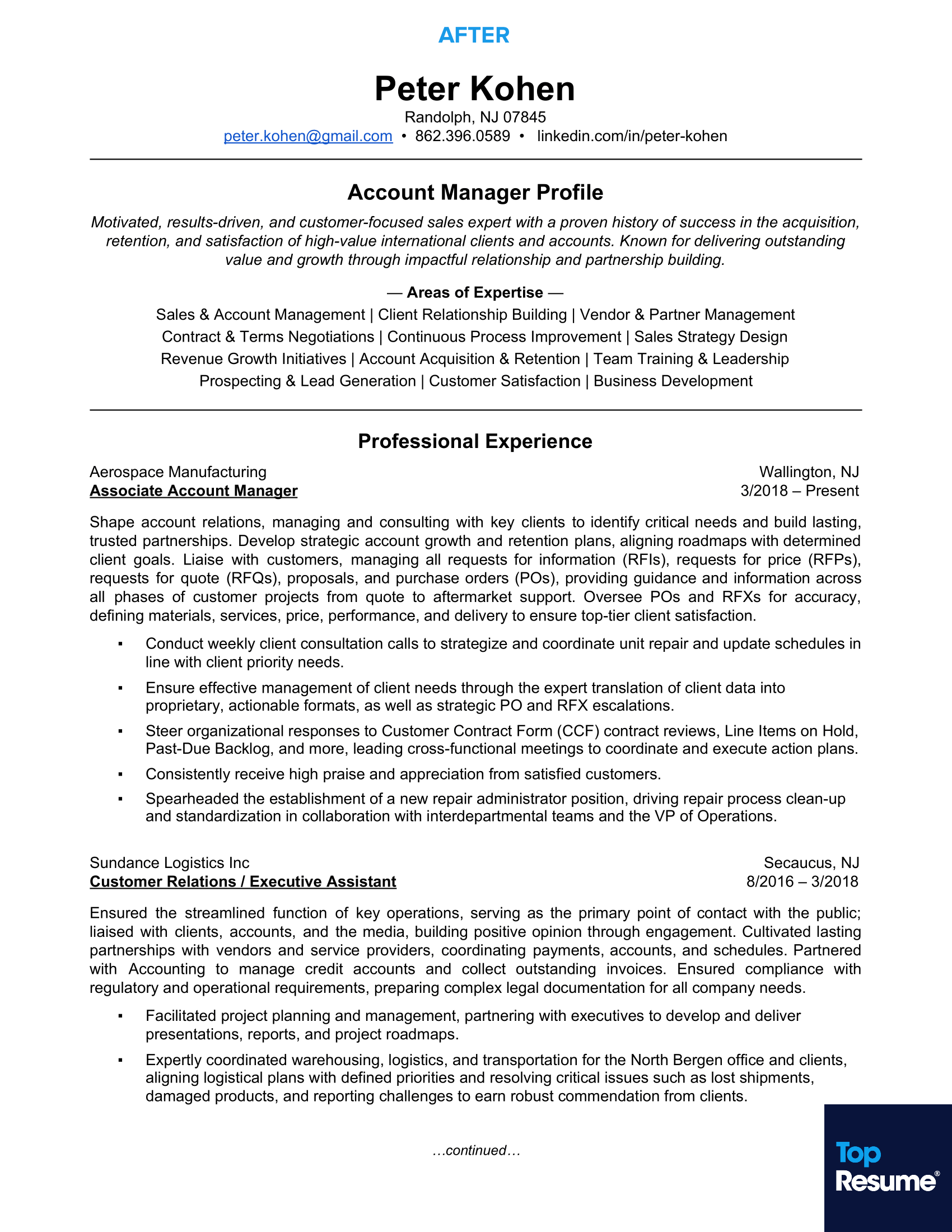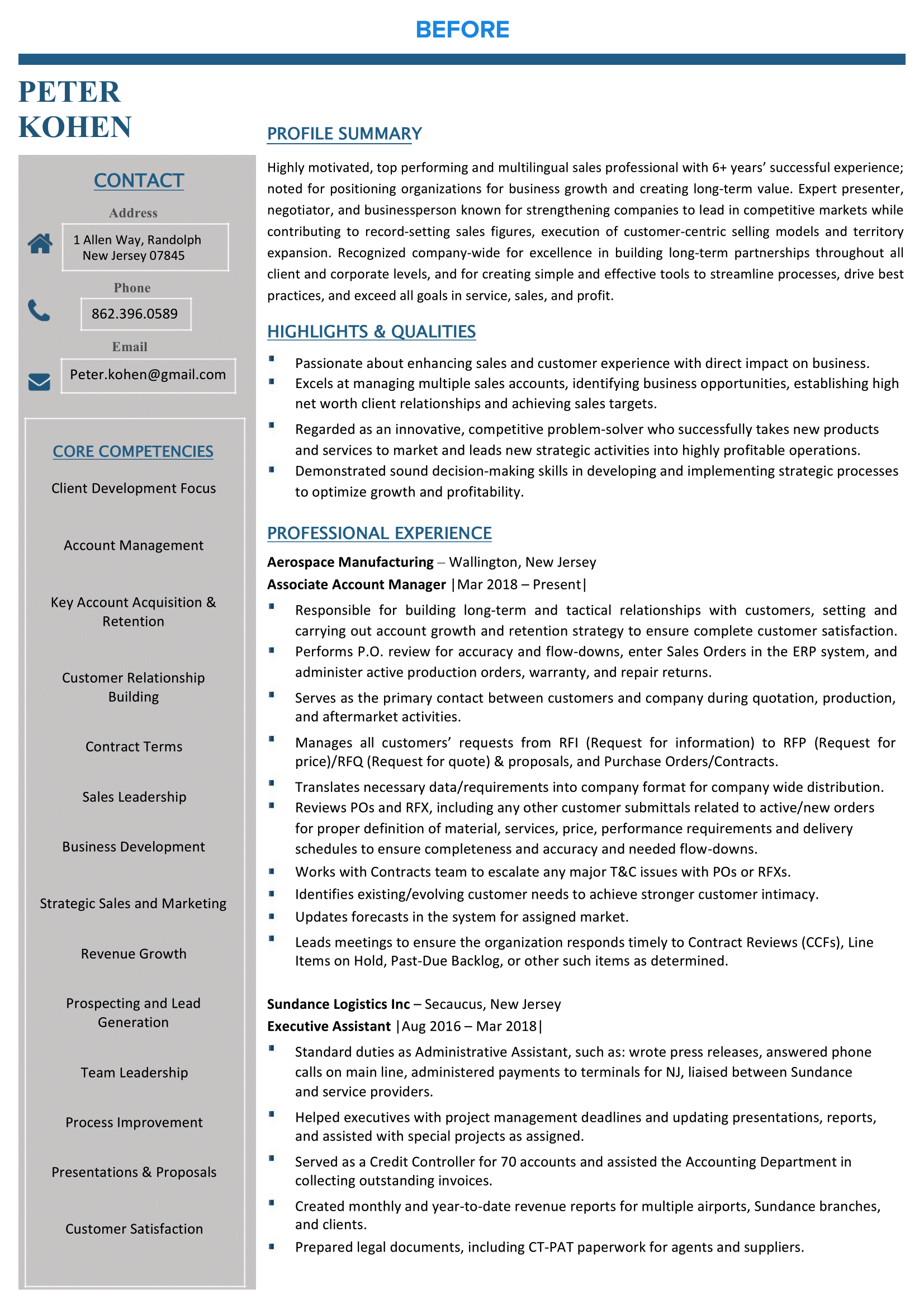 Post-project praise
Peter entered his makeover process feeling skeptical. He let us know that his resume "was a hot mess and [he] was wondering how TopResume was going to change it into something professional." His skepticism was only magnified by the fact that he had previously used another resume-writing company to rewrite his resume, but the document he received was full of typos and wrong dates.
Once Peter started working with Billie, his fears were quelled. He detailed to us that the process was easy and that Billie was responsive and informative. He didn't encounter any of the issues he had experienced with the last resume writing-company he used, describing the whole experience as "impeccable." And the result was even better:
"My resume turned out better than I ever thought it could! I'm absolutely thrilled with the results! Thank you so much for turning this piece of coal into a diamond. It's a much stronger, MUCH more professional document than what I originally had! Billie was fantastic to work with, and I feel the new resume will give me a much-needed edge in order to land a new job in the near future."
Not only was Peter ecstatic about his new resume, but he was also surprised at turnaround time and how quickly his resume could be transformed into an entirely different document.
As Peter and his wife prepare for their next move, he feels that his new resume will be a major asset. To start, Peter is feeling a lot more confident:
"Being able to see my accomplishments from that third party perspective, it had me thinking, 'oh man, yea, I'm really good at this, I did do that! I can handle this.' It gave me a complete boost of confidence. The active language used in the document is also a lot more attention grabbing than the passive language that I had previously. It's a more engaging document now."
Searching for a job is a scary process, and Peter let us know that it definitely helps to work with an expert. The one thing he would have done differently is reach out sooner! Best of luck to you and the whole family, Peter!
Want your resume transformed next? Learn more about working with a professional resume writer.
Recommended Reading:
Related Articles: